SportairUSA guarantees the best prices in Arkansas for avionics equipment, installation and service. Let us assist with your avionics upgrade. We can provide clean-slate installation of integrated systems, or incremental upgrades to your existing instrument panel.
Our Capabilities At a Glance
Avionics installation and service
Radio communications and navigation
Glass cockpit installation and service
Autopilot installation and service
Instrument panel fabrication and modification
We have in-depth experience with the following types of systems:
EFIS (electronic flight information systems)
EMS (engine monitoring systems)
TCAS (collision avoidance systems)
PCAS (portable collision avoidance systems)
AHRS (attitude heading reference systems)
GPS (global positioning systems)
Weather radar
Satellite weather
ELT (electronic locater transmitters)
EFB (electronic flight bags)
Analog flight instruments
Intercoms
Audio panels
Com radio
Nav radio
SportairUSA is located at KORK, the North Little Rock Municipal Airport, in central Arkansas. KORK is non-towered and lighted. 5–23 is a concrete runway measuring 5,002 x 75 feet. 17–35 is an asphalt runway measuring 3,019 x 75 feet. Both runways are very well maintained for business and recreational use.
SportairUSA utilizes hangars at the southwest corner of the field, just off of Remount Road, near Camp Robinson.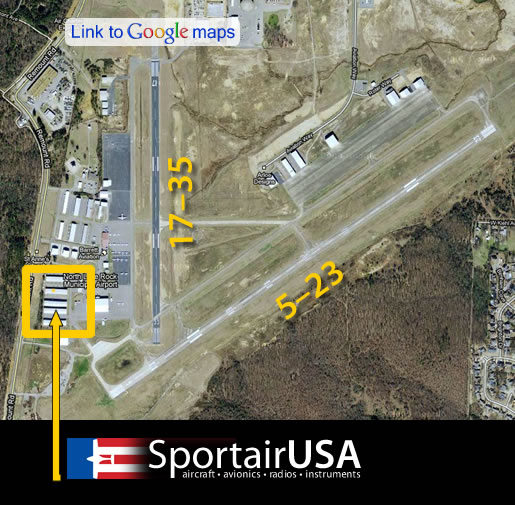 SportairUSA offers complete VFR and IFR certifications.
VFR Certification
The transponder, mode A/C or mode S, is required to be recertified every two years. Call today to schedule one of our quick turnaround VFR certifications. We can have you back in the air in an hour or less if it is reporting correctly.
IFR Certification
IFR certification is more extensive. To meet this biannual requirement, we test the aircraft static system, transponder, and certify the altimeter and encoder. We can turn around a typical IFR certification in a half day as long as the pitot and static system and altimeter are functioning.
Notification
SportairUSA provides a notification service to customers, to assist you in keeping track of the biannual requirement for VFR and IFR certification of your aircraft.
SportairUSA is a dealer for all brands of avionics and autopilots, and guarantees the best prices in Arkansas for equipment, installation and service.
Garmin
Bendix/King by Honeywell
Aspen Avionics
Avidyne
Icom
Advanced Flight Systems
Dynon Flight Systems
Anywhere Map
AvMap
S-TEC
TruTrak
Trio Avionics
Op Technologies
Grand Rapids Technologies
Chelton Flight Systems
and More…
FAA 14 CFR 145 repair station certificate #2SUR495B